Prolotherapy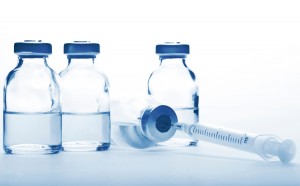 Prolotherapy is a highly effective Regenerative Injection Therapy used to treat joint conditions, low back pain, injured tendons & ligaments and chronic pain conditions like arthritis and fibromylagia. A dextrose-water solution is injected into the joint, causing a local inflammation reaction. Blood flow and nutrient delivery to the site increases and the tissue is stimulated to regenerate and heal itself. A patient of prolotherapy will usually receive 4 or more injection treatments over the course of weeks to months, depending on the extent of the injury.
Prolotherapy is a cost effective, minimally invasive procedure that can be done at your doctor's clinic. It is an excellent solution for many who wish to avoid surgery and is often made use of by athletes.
If you are suffering from pain or limited mobility, please click here to make an appointment and learn more about how prolotherapy or other treatments could help you. You may also be interested to read more about neural prolotherapy, trigger point injections, active release techniques, and how to improve your strength and flexibility.