Slow Cooked Chicken Taco Filling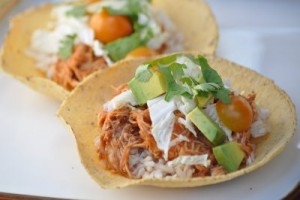 This recipe can be made ahead of time and then reheated when needed. Extras can also be frozen if needed. I think this recipe may work in a crock pot as well. Use this to fill corn or rice tortillas. Or, one of my favorites, napa cabbage leaves! Add in brown rice, avocado, a squeeze of lime, and cherry tomato halves. Enjoy!
Taco Filling Ingredients:
1 Ancho chili, seeded*
1 cup boiling water
4 cloves garlic
½ teaspoon (add more for a kick) chipotle chili powder
1 to 2 tablespoons ground cumin
3 teaspoons sea salt or Herbamare
3 pounds uncooked chicken breast and/or thigh meat
1 medium onion, diced
3 cups tomato puree*
few tablespoons extra virgin olive oil or grapeseed oilPreheat oven to 325 degrees.Place the ancho chili in a small bowl and pour the boiling water over it. Let soak for 5 to 10 minutes. Then place the chili and soaking water into a blender with the garlic, chipotle chili powder, cumin, and salt. Blend on high until pureed.Place the pureed chili mixture into a large casserole dish with the remaining ingredients. Cover and bake for 1 hour. Remove cover, stir, and bake for 1 more hour uncovered.After it is done, use the back of a large spoon to mash the chicken until it begins to fall apart. Taste and add any extra salt or seasonings to bring it up to flavor.
Recipe Source: www.NourishingMeals.com