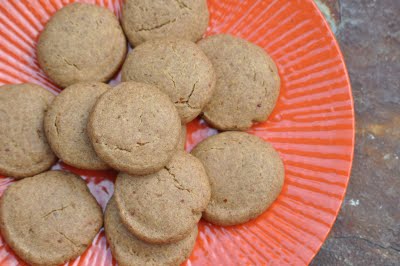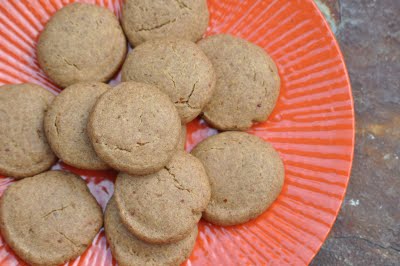 Date Sweetened Vegan Ginger Cookies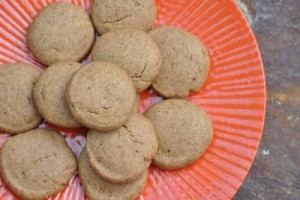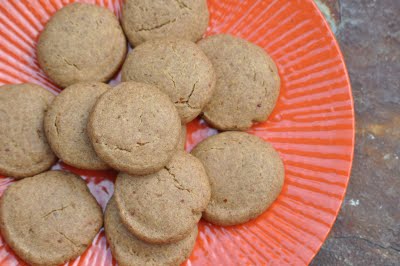 I used 15 pitted medjool dates here which equaled 1 cup, packed. If the dough seems too dry then add more of the date soaking water, a tablespoon at a time. Store in an airtight container.
15 medjool dates, pitted (soaked for 15 minutes in boiling water)
6 tablespoons coconut oil (grapeseed would work too)
4 tablespoons date soaking water
1 tablespoon maple syrup, honey, agave nectar
2 teaspoons vanilla
1 ¼ c sorghum flour
½ c tapioca flour
¼ teaspoon baking soda
¼ teaspoon xanthan gum
¼ to ½ teaspoon ground ginger
½ tsp nutmeg
½ teaspoon cinnamon
few pinches of sea salt
Preheat oven to 350 degrees F. Lightly oil a large cookie sheet.
Place the dates into a bowl and pour boiling water over to cover. Soak for about 15 minutes. Then place soaked dates (drain off the water and save) into a food processor and add the coconut oil, soaking water, syrup, and vanilla. Process until smooth.
Mix the remaining dry ingredients into a bowl and whisk together. Add the dry ingredients to the food processor and process until just combined. **I used a vita mix to mix the wet ingredients and then I poured it into the dry ingredients and mixed it all together with a fork.
Roll into small balls and place on the cookie sheet. Use your hands or the bottom of a cup to flatten each cookie. **I used the bottom of a 1/4 cup measuring cup.
Bake for 11-14 Minutes, makes 16 Cookies.
Recipe Source: www.glutenfreewholefoods.blogspot.com