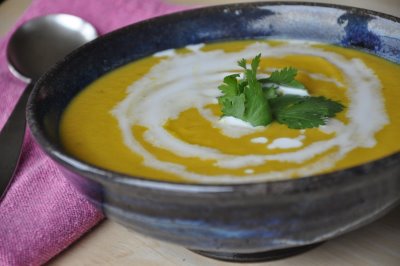 Curried Carrot Cauliflower Soup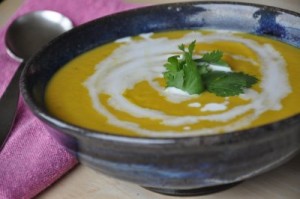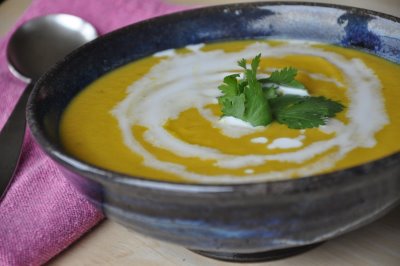 Since this soup will be pureed you don't have to worry about chopping things nicely and evenly. The smaller you chop the less time it will take to cook and vice versa. I used 3 teaspoons of curry powder today, but you could use a little less like noted below if you prefer a less intense curry flavor. Your soup may end up bitter- tasting if you do not peel your carrots. I prefer to take off the peels for pureed soups but leave them on for other recipes (especially anything raw).
Ingredients: 
2 to 3 tablespoons extra virgin olive oil or coconut oil
2 small onions (or 1 large one), chopped
1 to 2-inch piece fresh ginger, peeled and coarsely chopped
4 to 5 cloves garlic, peeled and coarsely chopped
2 to 3 teaspoons curry powder
1 teaspoon ground cumin
1 pound carrots, peeled and chopped
1 medium head cauliflower, chopped
6 cups water
sea salt, to taste
coconut milk
chopped cilantro
Heat oil in a 6-quart pot over medium heat. Add onions and a dash of salt and cook until the onions are soft and starting to change color. Then add the ginger, garlic and spices and saute a minute more.
Then add the carrots, cauliflower, and water. Simmer, covered, for about 25 minutes. Then puree in batches in a blender until smooth. Add salt to taste. Serve each bowl with a swirl of coconut milk and chopped cilantro for a garnish.
Enjoy!
Source: www.NourishingMeals.com