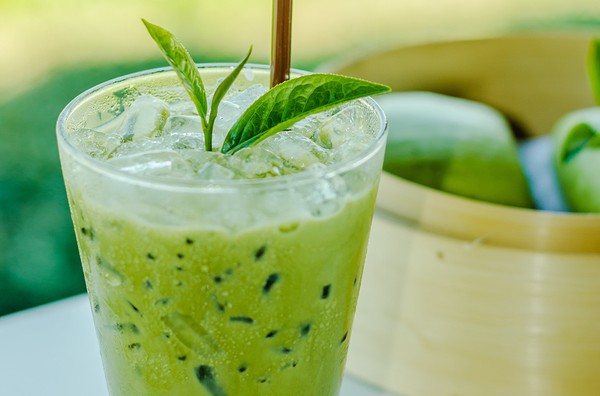 An organic green tea
In the evening, steep a pot of organic green tea. Use 1 Tbsp of leaves steeped about 15 minutes per pot. For best results, rinse the leaves with hot water and discard the water. Let your steeped tea cool for 30 minutes at room temperature.
In a large glass jar or iced tea decanter squeeze the juice of one lemon over a tray of ice cubes.
Add organic grated ginger or mint leaves for added flavor.
When sufficiently cooled, pour the green tea over ice cubes and place in the fridge overnight.
For the Super part of the greens, add one scoop of Greens First powdered supplement and stir. This will add an explosion of flavor as well as numerous health benefits (see below) to your green tea!
Drink the tea throughout the day. Green tea does contain small amounts of caffeine. If you are sensitive to caffeine, avoid drinking green tea in after lunch.
The health benefits of green tea are immense. The secret of green tea lies in the fact it is rich in catechin polyphenols, particularly epigallocatechin gallate (EGCG). EGCG is a powerful anti-oxidant, with numerous health enhancing effects. It has been shown to inhibit the growth of cancer cells, and kill cancer cells without harming healthy tissue. It has also been effective in lowering LDL cholesterol levels, and inhibiting the abnormal formation of blood clots. It can even help achieve and maintain a healthy weight!
Greens First is a supplement of 49 different certified organic fruits and vegetables providing 10+ servings per scoop. It contains no wheat, dairy, MSG, or preservatives.