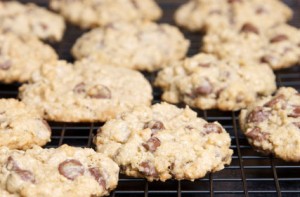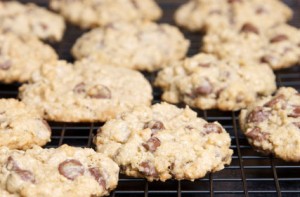 1 cup organic rolled oats
1 cup walnuts
1 cup rice flour (or wheat flour/spelt flour)
½ tsp cinnamon
½ tsp sea salt
¼ cup maple syrup
2 tbsp canola oil or melted butter
¾ cup mashed bananas (or applesauce or mango puree)
¼ cup to 1/3 cup of chocolate chips (can use raisins instead for dairy free choc chips)
Preheat the oven to 350 degrees.  Oil a cookie sheet and set aside.  Using a food processor, grind the oats and the walnuts together into a coarse mixture.  Place in a bowl. 
Add the flour, cinnamon, and salt and mix well.  In a separate bowl, whisk together the maple syrup, oil, and the fruit puree.  Add the dry mixture to the wet mixture and add the chocolate chips.  Combine with a wooden spoon or spatula.  Using a 1 ounce scoop or a tablespoon, scoop out the dough onto the prepared cookie sheet.  Bake for 15-20 minutes or until golden brown. 
I got this recipe from The Chopra Center Cookbook & I modified it, making it less sweet by decreasing the amount of chocolate chips and the amount of maple syrup.  I always make it with bananas because I think it tastes the best.
If you are counting calories I think each cookie would be between 135 – 150 calories each.
Source: Dr. Michelle Willis ND, Fort Langley, BC