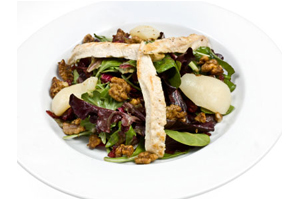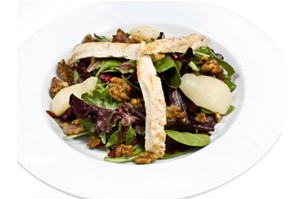 Serves 2
Dijon Vinaigrette
1/2 cup extra virgin olive oil
3 tbsp red wine vinegar
1/4 tsp Dijon mustard
1 garlic clove
salt to taste
stevia to taste
1 boneless chicken breast
1 small head romaine lettuce, washed and dried
1/4 cup chopped walnuts
6 Kalamata olives, halved and pitted
1 ripe avocado, sliced
1. Mix the vinaigrette in a blender
2. Bring 2 inches of water to a boil in a deep skillet, reduce to simmer, and add the chicken breasts.
3.  Simmer for 10-15 minutes. (Can also bake the chicken until done)
4.  In a salad bowl, combine the lettuce, walnuts, olives, and avocado slices.
5.  Add half of the dressing to the salad, toss well, and divide between two plates.
6.  Slice the chicken diagonally and arrange on top of each salad.
7.  Drizzle more dressing on top of the chicken and serve.