What's In Your Fridge?
13 Feb 2014, by Nutrition
in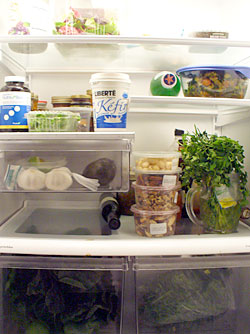 Dr. Marnie Wachtler, RMT ND, lets you catch a glimpse into her fridge and explains the benefits of some of her favorite foods!
Citrus, such as lemons and limes, are great to flavour your water drink. Not only is citrus high in vitamin C, its natural sweetness is better for you then vitamin water drinks, which are  loaded with sugar.
The brown paper wrapped meat is free range and bought from a local rancher. Local ranchers can provide inexpensive antibiotic free and hormone free cattle.
Greens eaten on a regular basis help to chelate heavy metals out of the body. Organics can be expensive, so an alternative can be go for hormone free and pesticide free.
Looking for that rainbow of colour on your plate? Beets and squash provide high flavanoids that help increase antioxidants.
Looking for a quick snack? Healthy fats such as olives, avocados, cheese and assorted seeds and nuts keep your stomach fuller longer.
Avalon organic milk is your best source of dairy that is hormone free and antibiotic free.
Where are Dr. Marnie's favorite places for getting all these great foods? The Calgary Farmers Market, Planet Organic and Community Natural Foods.
Contact Us for more information on how to stock your fridge with the right foods for better health!